Why "Gugù"
The Countess Augusta Rasponi del Sale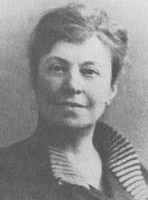 Countess Augusta Rasponi del Sale, in Ravenna, has always been only Gugù. Her nickname coming from family environment by Count Lucio Rasponi del Sale and Amelia Campana, whom she is the only daughter. She lived between the 19th and 20th centuries and graduated in classical literature. She knew French and English as a native speaker, so much so that in adulthood she translated Kipling too. She had lot of skills, however, she excelled in drawing that she cultivated since childhood, signing immediately with her stage-name, that would accompany her throughout her life in her publications dedicated exclusively to children, who she loved endlessly.
She made her debut in 1899 with The Calendar of Gugù and then she published many other illustrated books. Together with illustrations of kids in her books, there is always a funny goose that plays and has fun with them. She collaborated with "Il Giornalino della Domenica" and the "Corriere dei Piccoli" and dedicated her entire life to the people-in-need, in particular to less fortunate children. She had the dream that her commitment could have helped kids to live a healthier and happier life.
In honour of her extraordinary commitment, her knowledge of teaching, her emancipation that took place in a particularly complicated era, we decided to dedicate the name of our Room & Breakfast to her as a form of respect, homage and good wishes for the future of all new generations.